Data Entry
Is Data Entry from home REALLY the key to firing your boss, making extra money, watching your kids grow up, and avoiding the commute? We know you don't have time to check all these programs out, so we did it for you!
There are more and more sites popping up that look as though they could have been created by the same people, the only thing that differs is the name. They basically all say the same thing, "make thousands of dollars a week in just 30 minutes a day doing Data Entry."
But this is no ordinary data entry job, the kind that you would do well to make $10/hr, oh no, this is a super special kind of data entry that companies are willing to pay BIG BUCKS for. They apparently can't find anyone that has the special capabilities to do this, so they are willing to pay you all this money. Even though they all tell you that you need NO SPECIAL SKILLS or any training whatsoever!
The idea is that you pay a fee to join these programs and they will give you the names of the companies that are basically giving this money away if you're able to type. As though they don't have anyone that can type! Some programs are a one time fee, others you pay on a monthly basis. You are then to place ads on the pay-per-click search engines like Yahoo! and Google(for which you must pay a fee) and then YOU pay the per click charges to drive traffic to your form and HOPE that people fill out their information.
These programs all explain that you will simply need to make a modest investment of .10 to .15 cents per click or $10 to $40 dollars a month to make thousands of dollars doing Data Entry from home. Please! This makes me wonder if they are talking about the same search engines that I know about? Search terms this cheap would have to be very obscure to cost that little, which means that nobody is searching for them. If nobody is searching for them, no one will click on them and they won't do anyone much good. If that is the case, why would companies pay you so much money to do it? They wouldn't!
Be very wary of the "free" or no fee programs because you can end up paying a lot more for these than the one-time or monthly programs. You end up paying more for the names of companies to work for or other "tools" they say that you need. We don't believe that any of the Data Entry programs will make you much money no matter what you do!
Even now, I still receive emails from people inquiring about Stuffing Envelopes! There are people that still believe that companies out there will pay $10 per letter if you will just stuff it in an envelope. Needless to say, this is ridiculous, but many people have lost A LOT of money falling for that scam. I can't help but wonder if these Home Data Entry Opportunities are the digital age version of Stuffing Envelopes?
Without a doubt, it is possible to make a very good living on the internet, but it must be treated like a REAL business. What you really need is a simple, step-by-step program that will show you how to run a successful online business. If you are serious about making money online the Programs reviewed below are the Real Deal! They actually give you the knowledge, tools, and easy set up to start making money on the internet right away:

PaidSurveyAuthority.com

Rating: 5 out of 5

PaidSurveyAuthority run by Michelle McAllister stands out among all the others. A big reason why is that it is normally $97 to get started, but they give you a coupon that reduces that BIG TIME. It has an excellent back office and makes it WAY less time consuming than the others. PaidSurveyAuthority offers surveys that pay $5 to $75 and many can be completed in 25 minutes or less. You can also participate in Focus Groups that pay up to $100 for live discussions. They offer phone surveys that pay up to $100 and product testing up to $50. Another cool feature of this program is that you can preview movie trailers before the public sees them and they will pay up to $50 for that. Many other program make these claims, but PaidSurveyAuthority makes it far easier and less difficult and confusing. This program has a large database of companies that always pay on time. Sometimes they offer a 50% off coupon, actually it ends up being more that 50%, so that makes this even better and it is easily the top pick.

One Time: $ 37.00 (with coupon)

To Check it out for yourself: CLICK HERE

________________________________________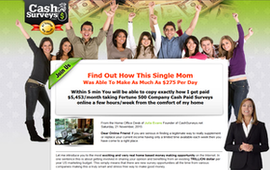 CashSurveys.Net

Rating: 405 out of 5

CashSurveys.net by Julia Evans features one of the largest databases of paying companies with a huge amount quality surveys. These companies pay $10 to $100 for surveys and up to $100 for focus groups. The thing that really separates this program from the others is the enormous amount of surveys available. Any time we wanted to take a survey or participate in a focus group it was available. They offer a terrific 4 bonus package that is actually worth more than the cost of the program. With frequent updates, very high customer satisfaction, this program is very good. The price is a little bit higher and if it wasn't this could very well be our top pick.


One Time: $ 39.50

To Check it out for yourself: CLICK HERE

________________________________________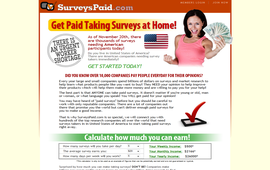 SurveysPaid.com

Rating: 4.0 out of 5

SurveysPaid features database of over 275 Survey and Mystery Shopper Companies. These companies pay $5 to $100 for surveys and up to $100 for Focus Groups. You can make money viewing movie trailers, trying new products, and even win prizes and get free products. A 90 day guarantee assures your satisfaction. They also offer
bonus programs that can make some money, but the survey system is the real money maker here.


One Time: $ 34.50

To Check it our for yourself: Click Here

_________________________________________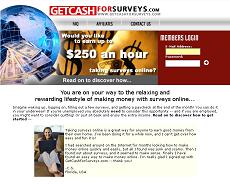 GetCashForSurveys.com

Rating: 3.5 out of 5

Get Cash For Surveys offers surveys online up to $100 and Phone surveys up to $100 for thirty minutes. The Focus groups pay up to $100 and product testing allows you to keep the product. You can also participate in Real World Focus Groups, Secret Shopper Programs and even go out to eat for free. They offer some great Bonuses including software that helps you easily sign up with hundreds of companies and they even send email invitations to participate in surveys. This program is a little more expensive, but with the added features and many different ways to make money it is worth it. The 90 day guarantee makes this a win-win situation.

One Time: $ 37.00

To Check it our for yourself: Click Here

_________________________________________


Home Data Entry to Home Page